Do you like that little piece of happy art you see over in the sidebar, you know the one I mean...it says: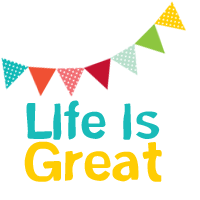 Well, the undeniably sweet and talented
Kristina Proffitt
did a slight re-design of the original just for me. That's how sweet she is. I was a winner of this fab art on her
blog
recently and it said "Life is Good." The story behind the addition of great instead of good is this: during college I had a sign posted on my dorm room door that said Life is Great. I believed it then and I still believe it now.
So,
hop over
and check out the great blog designs by Kristina Proffitt and Crystal Wilkerson. And that happy art like the one I have is just $3! Can you believe it? There are so many more designs to choose from, too. The problem for you will be in not getting them all.
For a limited time, Kristina and Crystal are offering $5 off their custom bog designs. Here, take a
look
.